MemberCount: 1344

Free Members: 0
Pro Members: 1262
JV Partners: 82
Member Login

To:All Marketers Looking for Active, Responsive Advertising
From: The Desk of Dave Mosher

Text Ad Exchanges remain one of the most effective advertising/marketing resources on the internet. There are alot of sites out there but very few have all the benefits and advertising options we have to offer.

Along with your advertising efforts and our many forms of advertising we will help you build and grow your affiliate programs and businesses.

Plus if you chose to promote a small income.





**NEW**

All Member Now Receive Monthly Ads Pack!
Check it Out on the Members Bonus Page

PLUS....


FREE Pro Membership to first 2000


All New Members
Bonus Rewards Promo Code: trader-4
Includes:
5,000 points,
1 Super Solo
5 Solo Ad
5 Banners w/500 Impressions
5 Traffic Links w/50 Views
5 Hotlinks w/1000 views
2 banner buttons w/100 views
2 Adsplus Ads w/100 views

3 Membership Levels to Choose From:
Compare Memberships
Unique Extra Advertising Options:
Navigation Toppers
Solo Footer Ads
Paid to Click Ads
Buttons Ads
Adsplus Ads
Master Network Ads- Master Ads go to 34 Sites w/over 37,500 members

Super Moola Ads -Moola Ads go out to 21 Sites w/over 18,000 mebers. Receive up to 1 cents for every ad read

Super In-Box Ads-Super In-Box Ads go to 25 Sites w/over 30,000 members

Super Solo Ads- Super Solo Ads are sent to 13 sites with a combined list of over 13,500 members.

Random Referrals- Exclusive to JV Membership

Trade Points for ALL Advertising- JV members have the option to purchase using their points, every type of advertising we offer including super solo ads, footer ads.

Solo Ad Timer Lasts 12 Seconds instead of 10
Featured Active Member Rewards
Exclusive Promo Codes- We have teamed up with 51 other sites to bring you exclusive promo codes for advertising.

Hotlinks- With Full Stats and Earned Points for Clicking

Admin Credit Mailer- Read admin mails and earn credits every single time!

Browse Masters,Supers, Solos and More- Members Have the Option to View the Last 15 Solo Ads Sent On Site. Never Miss a Solo Again!

Earn Residual Income on Referral Purchases w/Email Notification- Members can earn up to 50% commissions every time one of their referrals purchases advertising and receive an email every time any referral makes a purchase!

Earn Residual Traffic- Every time a referral earns points or logs into their account, their referrer earns points or a percentage of those earnings.

Surf & Read Rewards- Active members are rewarded daily for their activity, even cash commissions.

Login Ads
Post Your Ads in Text or Html Format
And Much More!
Before You Join My-Solo-Ad-Trader, Please Read This Notice: You agree to receive up to 24 Solo Ads ,24 Masters Ads, 24 Super Moola Ads, 24 Super In-Box Ads and 24 Super Solo Ads a day (usually MUCH less) from other members to your e-mail address that you sign up with! You Must Understand, You Will Receive a lot of Email in your Email Box from our Members, and Admin. These Emails Are Not Spam, You Are Receiving These Emails As Members Of My-Solo-Ad-Trader
Get 2,500 GUARANTEED VIEWS for LESS Than 5 BUCKS!!!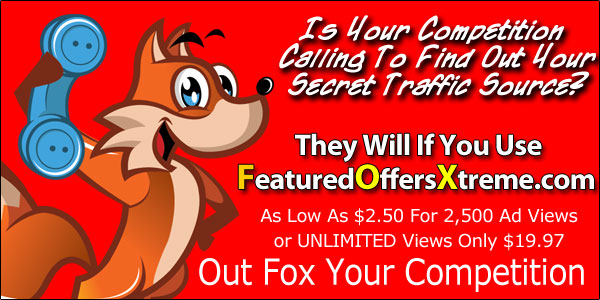 Absolutely NO AOL, Yahoo, Live.com, SBC Global, Spam Arrest, Hotmail, Earthlink, Comcast, ATT Email Addresses!!

(You Won't Receive The Confirmation Email)

All Marketers Agree And Recommend A FREE Gmail Account to Ensure Email Verifications.

JV Partnership

2500 points on joining
75 points for every ad read
450 points for every solo ad click
Post 25 times a day
50 % Commission On ALL Referral Purchases
Price: $40.00 Lifetime
Sign Up Free, Then Upgrade Inside!
Pro Membership

1000 points on joining

50 points for every ad read

250 points for every solo ad click

200 points for every referral

Post 5 times a day

50 % Commission On ALL Referral Purchases
Member Type:
PRO

By joining you agree to receive emails from My-Solo-Ad Trader. You are also agreeing to the rest of our Terms and Conditions